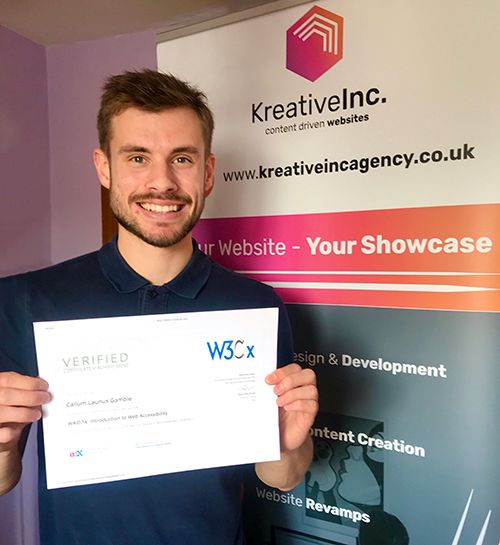 Callum Gamble
In May 2019, Callum graduated from University with a first-class BSc in Creative Media Technology from Leeds Beckett University and started as a web developer with one of the big digital agencies in Leeds. He had to leave after just three weeks, with his confidence at the lowest point ever.
Callum is autistic, and his employer refused to make reasonable adjustments for him. The agency saw him as a hindrance in the business rather than an asset, not allowing him to shine.
Callum decided to turn a bad situation into an opportunity by starting up his own web agency (kreativeincagency.co.uk) in July 2019.
During the pandemic, he learnt about the appalling status quo of web accessibility in the UK with 70% of websites being inaccessible to disabled and impaired people. He decided to adapt his business model by focussing on web accessibility services for UK businesses, web agencies and freelance developers.
His mission is to make the UK digitally inclusive by 2025.
His vision for KreativeInc Agency is to expand into an organisation that employs neurodivergent and neurotypical people with complimenting talents and skills to create a working environment where being different is encouraged and seen as an asset.