14 Dec 2020
Tech for Good Taskforce 'meets' to develop the agenda for #DCF2021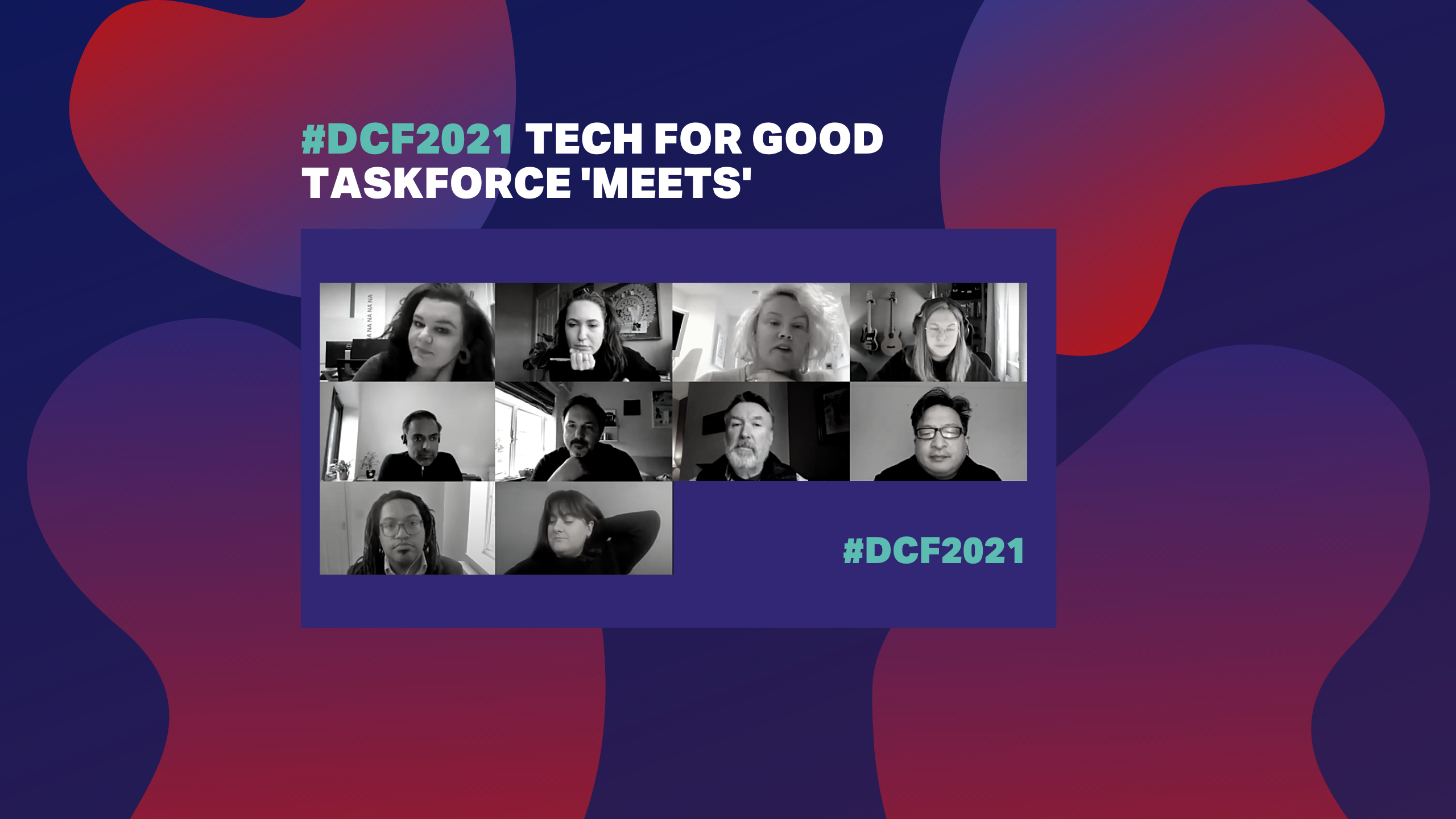 Last week, we kicked off our Tech for Good Taskforce meeting, which saw us wrap up the first round of Advisory Board meetings for #DCF2021.
We were joined by:
Rebecca Rae-Evans – Founder, Tech for Good Live

Lauren Coulman – Founder and CEO, Noisy Cricket C.I.C

Amul Batra – Chief Partnerships Officer, Northcoders

Herb Kim – Founder & Curator, TEDxManchester & Thinking Digital, Newcastle

Stuart Clarke – Festival Director, Leeds Digital

Naomi Timperley – Co-founder, Tech North Advocates

Amy Newton – Founder, Inclusively Tech

Dan Sodergren – Co-Founder, YourFLOCK.co.uk
"Your experience and your input will play a vital role in shaping Digital City Festival," said Festival Director Martyn Collins, addressing the tech leaders forming our Tech for Good Taskforce. Alexandra Balazs, Head of Operations at Prolific North, highlighted that curating "diverse panels that discuss and engage with the key questions hanging over the industry" is an important goal of #DCF2021. In addition, Alexandra said that this year's festival will focus on appealing to a global audience – with international figures offering a fresh perspective by taking part in these discussions.
With that, our Tech for Good Taskforce jumped into their discussion.
Accessibility
Diversity and accessibility were pertinent questions on everyone's mind, with the group unanimously agreeing that diversity and accessibility intersect in many crucial ways. This, it was acknowledged, is something the wider tech industry sometimes overlooks.
"Age representation is a huge problem in tech... Manchester can make a massive difference. We can show the world that you can do social good, and you can be inclusive." said Dan Sodergren.
"I'd like to see some action," said Naomi Timperley when pointing towards the ways in which tech can "solve some of the problems" facing charities and social enterprises at the moment.
Highlighting the transformative role the tech industry can play in our region, Lauren Coulman reflected on how the industry can risk getting it wrong, "Poverty and a lack of opportunities in the tech industry risks polarising income inequality further. Diversity and education are needed to solve these problems, not worsen them."
"This is about people. Inclusion is about the people who drive the tech," said Amul Batra, "if we aren't drawing on a much more diverse and inclusive tech population, then we are not fixing a lot of the things that need fixing."
The taskforce agreed that through offering real and transformative opportunities that address problems in both tech and society, the industry has the potential to make a meaningful social impact on our region. "Collaboration is key. This is our chance to show off how amazing Manchester and the North really is," said Dan.
"There is a challenging conversation to be had"
Reflecting on what Tech for Good truly means, Rebecca Rae-Evans said that to her it represents "how tech can make the world better."
The taskforce then discussed the ways tech can help, but also harm, people. "Tech for Good built wrong can kill people," stated Rebecca. Amy agreed, pointing to the recent boom in mental wellbeing apps, explaining how many of these profitable apps can actually cause harm by failing to genuinely help the people who need them. "Are there spaces tech shouldn't occupy?" questioned Amy, encouraging the taskforce to reflect on this.
The board agreed that it's important more time is dedicated to exploring how discussions on mental health and mental illness can be included in #DCF2021 in a meaningful way.
"There are challenging conversations to be had. But in Manchester, we can have those conversations," said Rebecca.
Pointing to the vital platform the festival offers, Amy acknowledged that #DCF2021 creates a valuable opportunity to speak to the industry's influencers, decision-makers and thought leaders, "If they can understand and learn about different mental health conditions, they can realise how the industry should evolve to include the people who have previously been overlooked and excluded, but have so much to offer the industry."
How DCF2021 can shift the conversation
The Taskforce agreed that many of these issues run deeply throughout the tech industry and our society. "We should be looking at the gnarly bits, " said Lauren, who acknowledged that #DCF2021 is only the start of these discussions, and offers the chance to ask important questions.
"We have to change the culture," said Dan enthusiastically. Lauren agreed, "this is an opportunity to open peoples' minds."
"How can organisations use tech ethically?", "How can we better empower tech leadership to influence the wider world?" and "How does mental illness manifest itself and impact the people working in tech?" were just a few of the big questions our taskforce highlighted, with the goal of utilising #DCF2021's platform to address these issues and shift the conversation.
Closing thoughts
We wrapped up our meeting feeling powered up about all the ways #DCF2021 has the potential to ask crucial questions and kick off conversations that the tech world needs to be having. This is a responsibility our Tech for Good Taskforce takes seriously and passionately believes in.
Martyn explained that the festival is free to attend, ensuring that there is no financial barrier to participate in all that #DCF2021 is offering, adding: "We are collaborative in our approach and seeking to move the sector forwards, together." It was agreed that through collaboration and offering a real platform to hear a diverse range of voices, experiences and opinions, #DCF2021 can play a vital role in better serving our tech community and our region.
Next time
This brings our initial round-up of taskforce meetings to an end. Listening and learning from the leaders that make up our Advisory Board has been a fantastic experience. Our team is thrilled to see the 2021 event continue to take shape and be informed by the knowledge, ambition and passion our Advisory Board has. Stay tuned for more updates from the Digital City Festival team.
Digital City Festival returns 12-23 April as a truly digital experience. Will you be part of it?