03 Dec 2020
Our Digital Innovation Taskforce 'meets' to discuss priorities for #DCF2021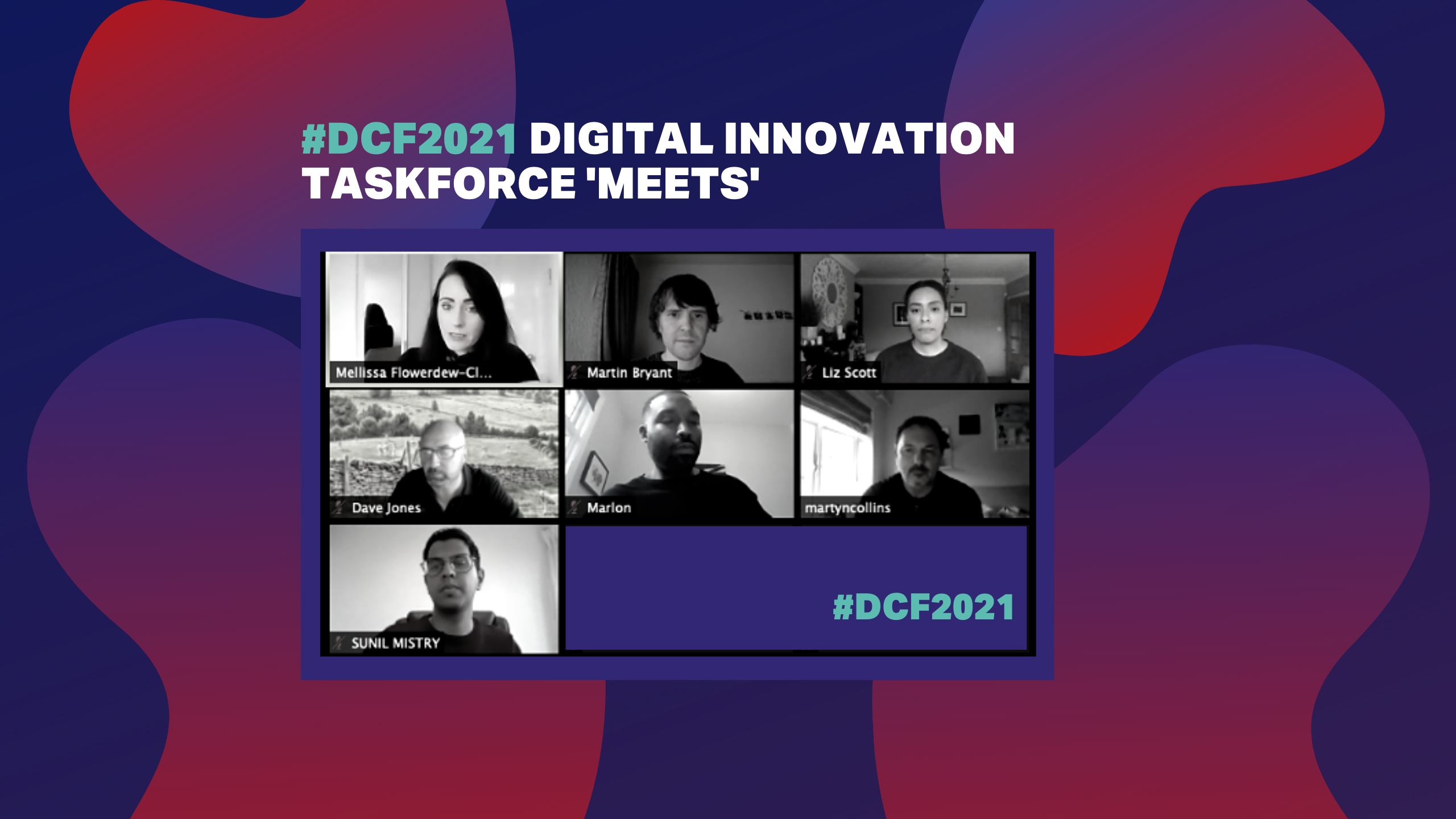 On Tuesday afternoon we were excited to kick off our next #DCF2021 Advisory Board meeting. Covering DCF's key pillars, these meetings will shape and inform Digital City Festival's key priorities.
This time it was our Digital Innovation Taskforce that met.
We were delighted to be joined by digital and business leaders including:
Mellissa Flowerdew-Clarke – Marketing Director UK, Dept
Jude Holmes – Head of External Relations and Marketing, Made Smarter
Martin SFP Bryant – Founder, Big Revolution
Liz Scott – Head of Entrepreneur Engagement, Tech Nation
Dave Jones – Chair, UK IT Leaders Group
Marlon Hope – Head of Product, Planixs
Sunil Mistry – Director of AI, Atos
Jon Corner – Chief Digital Officer, City of Salford
Patricia Keating – Director, Tech Manchester
On this occasion, Katy Leeson, Tanya Grady, Anne Dornan and Lou Cordwell OBE sadly weren't able to join us, but we look forward to catching up with them at our next meeting!
Festival Director Martyn Collins started off our session by saying, "The North is a leading digital force to be reckoned with. If anyone can put on a digital festival, it should be us!" With those words of encouragement buzzing in our ears, the taskforce jumped into action.
Digital & the environment
Our taskforce quickly got the conversation rolling by addressing Manchester's key concerns of climate change and reaching net-zero emissions targets.
Jon Corner identified environmental issues as a "major factor on every business' mind right now." The board enthusiastically agreed that exploring the ways in which digital can be used to achieve the region's carbon neutrality goal is a crucial part of their approach to shaping and informing #DCF2021.
AI now and in the future
AI was a hot topic amongst our taskforce, who expressed their excitement about where AI is headed as well as the vast range of possibilities AI is already offering businesses and society.
"AI is a major future trend," said Mellissa Flowerdew-Clarke, who stated that knowledge and access to resources will play a vital role in helping people and businesses better understand how AI can positively improve customer experiences and support businesses suffering after a rough financial year.
Sunil Mistry pointed towards the ways in which AI is being used for good, and celebrated the innovation taking place in this sector. Marlon Hope enthusiastically agreed, suggesting that panel discussions and study showcases would be a great way for #DCF2021 to introduce people to everything AI has to offer.
How can tech better serve?
Jude Holmes turned the taskforce's attention to look at how technology can support healthcare as well as the art, culture, retail and charity sectors struggling amidst a global pandemic.
"Tech must be inspiring and tangible", said Mellissa. Marlon agreed, stating that "throwing a load of tech at things doesn't mean it will be successful… we must understand how people want to use technology."
Martin Bryant acknowledged the vital role tech will also play in revitalising the post-pandemic economy, saying "If there aren't enough digital solutions to support these sectors, we should be asking why."
Reflecting on the hurdles so many businesses and organisations have faced this year, the Advisory Board spoke about how technology can inspire organisations, helping them to transform and become more agile than ever before. "Tech has been game-changing for retailers this year," Liz Scott said, pointing out that "access to tech" is vital for the industry.
It was agreed that #DCF2021 will create the opportunity for industries in the North and across the globe to connect and start a conversation about what digital can do for them. Martin Bryant suggested the festival shares real-life stories of how businesses "have used tech to stay in the game through discovering new ways of doing business".
Closing thoughts
"We need to be bold in what we are trying to achieve here", Martyn Collins said as he wrapped up the Digital Innovation Taskforce's discussion for the day.
After such a brilliant discussion, it was clear that our Digital Innovation Taskforce has plenty of innovative ideas, as well as a clear passion and enthusiasm about the North's role as a digital leader. We are thrilled to be working closely with this team as they help us shape #DCF2021.
Next time: Our for Growth and Productivity Taskforce 'meets'. Stay tuned for more updates from behind the scenes at #DCF2021.
Digital City Festival returns 12-23 April as a truly digital experience. Will you be part of it?