24 Nov 2021
Introducing our Digital City Festival 2022 Headline Partners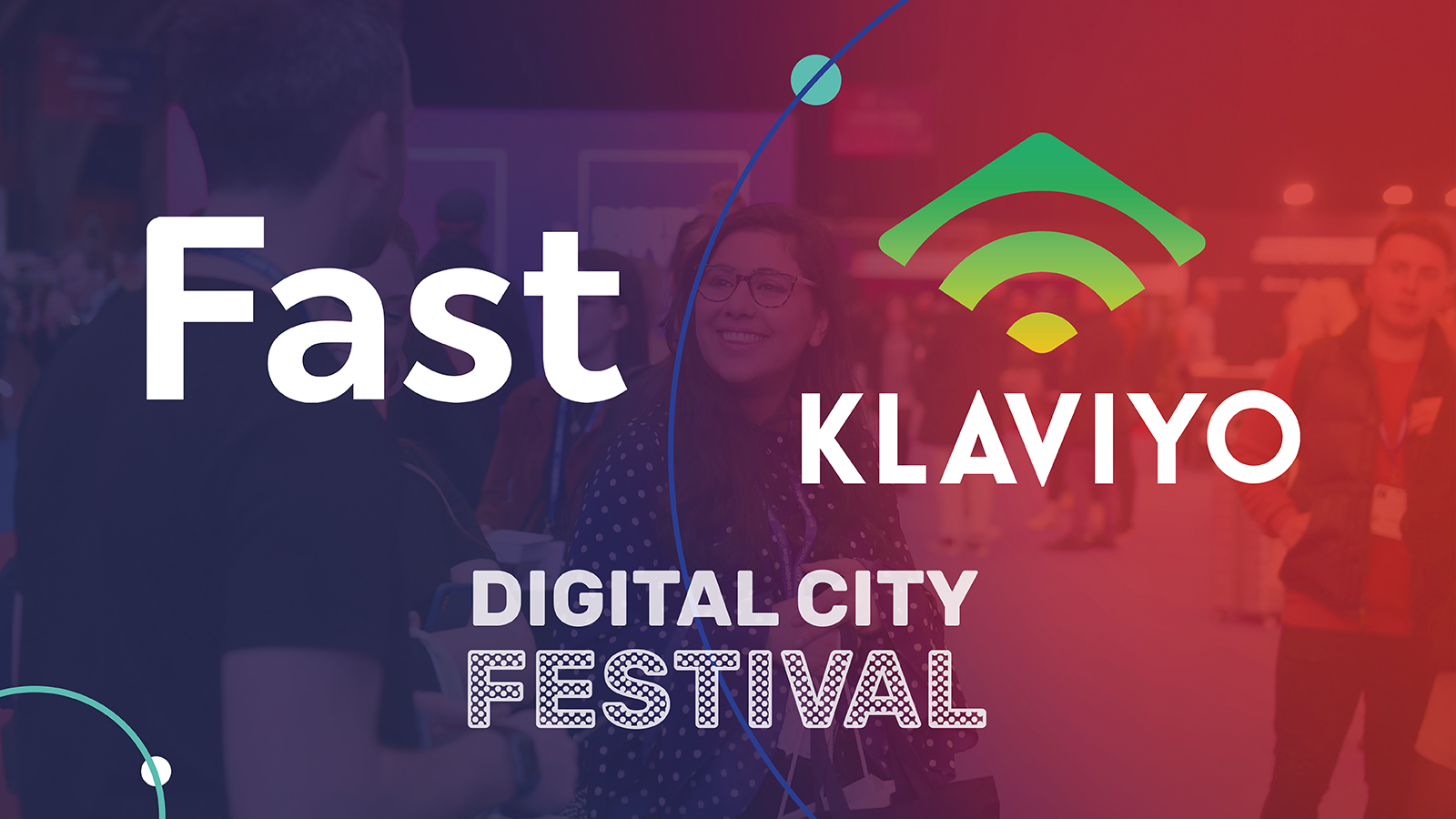 Today, we are beyond delighted to announce Fast and Klaviyo as Headline Partners for Digital City Festival 2022.
These companies epitomise precisely the energetic, dynamic, forward-thinking, internationally-focussed, entrepreneurial excellence that is synonymous with Manchester and our ambitions for a truly global festival uniting the digital sector.
Where Fast and Klaviyo lead, others follow, and we're gearing up for a truly phenomenal series of events in Manchester next March.
Find out how you can join them and be part of it.
About Fast
Fast's mission is to make buying online faster, safer, and easier for everyone. Its Fast Login and Fast Checkout product enable a one-click sign-in and purchasing experience that makes it easier for people to buy and merchants to sell. The company's products work on any browser, device, or platform for consistent, stress-free purchasing, either on a merchant's own domain or through headless checkout on any other website. Fast invests heavily in its user privacy and security, with a Zero Fraud Guarantee on chargebacks for sellers. Headquartered in San Francisco, Fast is a privately held company founded by Domm Holland and Allison Barr Allen and funded by Stripe, Addition, Index Ventures, Susa Ventures, and Sugar Capital.
Manchester is a city full of innovation, passion, and community as evident in the incredibly exciting companies that have emerged from the region in the past years. Digital City Festival brings together the best and brightest minds of the eCommerce and digital industry in the UK, making it a perfect fit for Fast.
Michael Schirrmacher, VP UK at Fast
About Klaviyo
Klaviyo is a leading customer data and marketing automation platform dedicated to accelerating revenue and customer connection for online businesses. Klaviyo makes it easy to store, access, analyse and use transactional and behavioral data to power highly-targeted customer and prospect communications.
The company's hybrid customer-data and marketing-platform model allows companies to grow by fostering direct relationships with customers, without giving up their valuable data to popular big-tech ad platforms. Over 265,000 innovative companies sell more with Klaviyo.
We are at the intersection of many dynamic challenges facing businesses today. Between privacy regulations, supply chain issues and technology gatekeepers, there has been no shortage of obstacles for entrepreneurs and small businesses. Klaviyo is proud to partner with Digital City Festival 2022 to take part in important discussions around solutions to these challenges and continue our mission of helping creators own their growth and reach their full potential.
Gemma Banks, Senior Marketing Director of EMEA for Klaviyo