25 Nov 2020
How our Culture Taskforce are shaping the vision for #DCF2021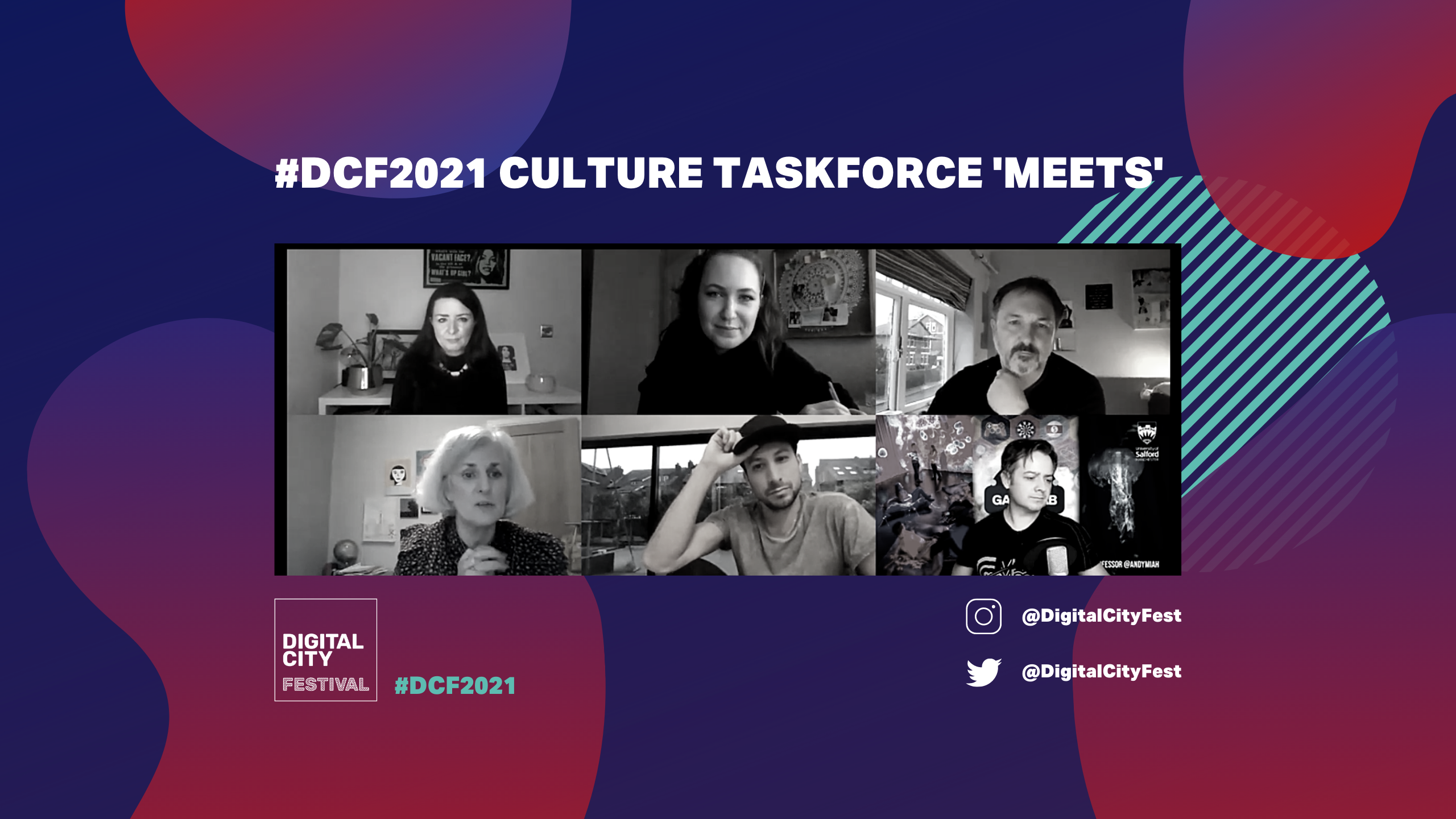 As we work towards Digital City Festival's exciting return in April 2021, our Advisory Board of specially selected digital leaders will be participating in a series of advisory meetings. Covering DCF's key pillars, these meetings will shape and inform Digital City Festival's key priorities.
Here's some insight into how plans for #DCF2021 are shaping up so far.
Our Culture Taskforce 'meets'
Monday afternoon saw us kick off a series of Advisory Board roundtables for Digital City Festival 2021. After speaking with the board over the past few months it was great to bring everyone on our Culture Taskforce together for a first virtual roundtable to continue developing our plans. This strategic roundtable focused on culture, and upcoming roundtables will take a look at Tech for Good, Digital Innovation, and Growth & Productivity. We were delighted to be joined by some of the digital world's influential leaders:
Shirley Benson — Lead Producer Digital Cities Virtual, BBC
Dr Kirsty Fairclough — Reader in Screen Studies, School of Digital Arts, MMU
Beth Hewitt — Director Nations and Regions: Media Futures, School of Arts & Media, University of Salford
Professor Andy Miah — Chair of Science Communication & Future Media, University of Salford
Nelson Beaumont-Laurencia — Head of Events & Sponsorship, CityCo
Sheona Southern, Managing Director of Marketing Manchester and Sacha Lord, Night Time Economy Advisor for Greater Manchester sadly couldn't join us for this one. But we were still thrilled to get around the (virtual) table with these digital leaders and progress with shaping the key priorities of #DCF2021.
Hybrid events: is this the future?
Kicking off our meeting – the Culture Taskforce agreed that #DCF2021 is committed to creating community, facilitating conversations and celebrating the culture sector. Martyn Collins, Festival Director, opened the discussion by reflecting on the turbulent year of 2020 and the impact this has had on businesses across sectors, "We thought Digital City Festival 2021 would be the first time everyone could get together in person again, but Covid has other ideas…" Martyn explained how this dilemma lead to #DCF2021 being reimagined as a truly digital experience.
Jumping straight in — the board broke down DCF's key offerings: a two-week digital festival and a new digital platform open all year round. Board members noted that #DCF2021 will invite the world to look towards Manchester for two weeks to see what our city has to say about digital.
A crucial theme of the meeting was accessibility, and our board discussed how new ways of experiencing culture and participating in events have emerged due to Covid-19. It was agreed that festivals such as DCF, which are equipped to offer complimentary digital and in-person experiences, are the future. Highlighting how technology has successfully "broken down so many barriers," Beth Hewitt said, "We aren't going back. We are only going forward."
The Digital City Network: Manchester's latest cultural venue
The Culture Taskforce turned their attention to discussing the ways in which digital is shaping culture and creating communities. Professor Andy Miah spoke about the importance of creating a "sense of place" through the Digital City Network and the board excitedly identified that the platform can become Manchester's newest cultural venue. Open all year round, the Digital City Network will be filled with exclusive content and will even host new events for audiences to watch live — or access whenever and wherever they choose.
The Culture Taskforce agreed that establishing a digital platform that successfully reflects the North's vibrant industries and businesses is a crucial goal. Bringing together organisations and individuals working in the cultural and digital sectors from all over the world is another key aim. Shirley Benson acknowledged how the pandemic has transformed our habits and how going forward hybrid events are best suited to meet our new needs, "Now we've all been through this, we want to access something happening on the other side of the world without us having to get on a plane."
"A really good thing to come out of lockdown is how digital is allowing us to discover new artists doing incredible things," Nelson Beaumont-Laurencia said. By offering high-quality exclusive content, and featuring a wealth of businesses in the tech and cultural sector, the DCF platform will be established as a brand new cultural space that celebrates Manchester, and everything our innovative and dynamic city has to offer digital.
The Cultural Sector's Big Bounce-Back
Covid-19 was, of course, a hot topic. The Culture Taskforce discussed the impact the global pandemic has had on the North's creative sectors, local businesses and the economy at large. With many members of the board working with Northern cultural organisations, they have experienced Covid-19's tremendous impact on the sector first-hand. Dr Kirsty Fairclough acknowledged that the festival will offer a boost to the region's cultural organisations by playing a vital role in "showcasing everything Manchester's cultural ecosystem" has to offer.
Looking ahead to next year and with the positive news of vaccines, the Culture Taskforce discussed how #DCF2021 can play an important role in revitalising the North's economy — shining a spotlight on the region's businesses, cultural and digital sectors.
Connecting the global sector and allowing the region's businesses to reach those further afield through the Digital City Network will offer exciting possibilities to businesses, no longer limited by their location.
Next time: Our next Advisory Board meeting will see our Tech for Good Taskforce meet. We can't wait to hear what our board of digital leaders has to say and we'll be sure to share all of the details here.
Digital City Festival returns 12-23 April as a truly digital experience. Will you be part of it?