07 Dec 2020
Highlights from our latest Advisory Board meeting - Growth & Productivity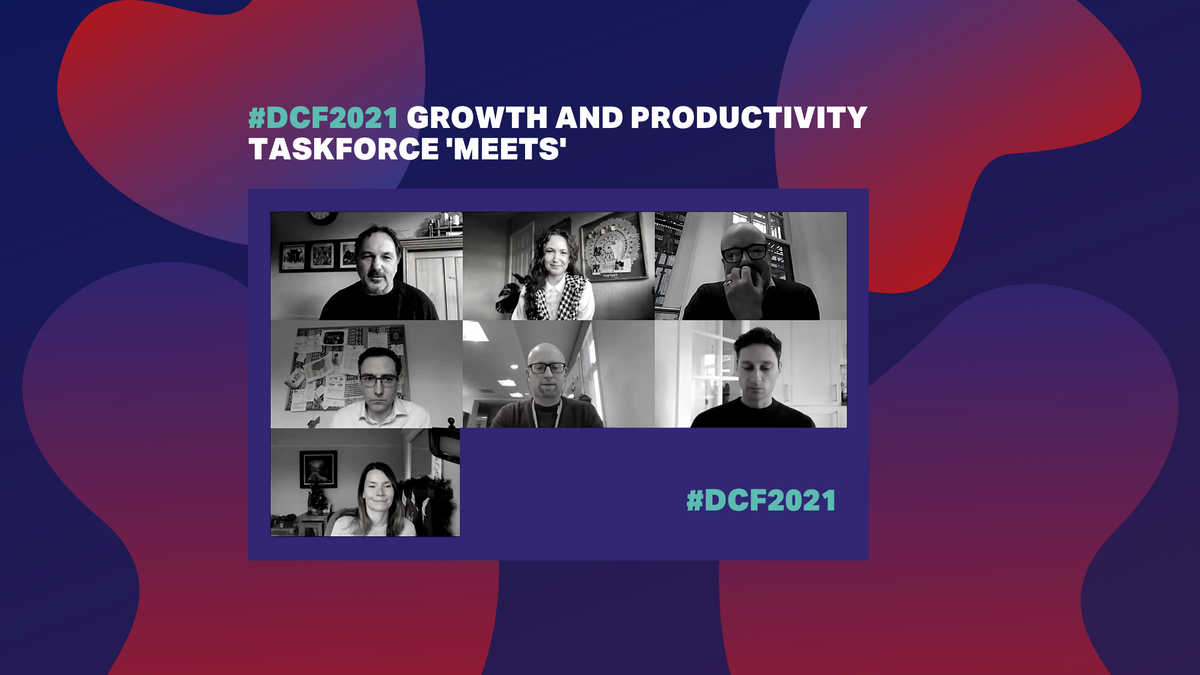 Last Wednesday, we were excited to host the next #DCF2021 Advisory Board meeting, this time for our Growth & Productivity Taskforce. These meetings shape and inform Digital City Festival's key priorities - joining us on the Growth & Productivity Taskforce are:
Richard Jeffrey, Director of Business Growth, The Growth Company
Councillor Sean Fielding, Leader of the Council, Oldham Council
Phil Swan, Chief Information Officer, Greater Manchester Combined Authority
Nigel Jones, Sector Specialist, Tech & Creative, Department For International Trade
Chris Fletcher Policy, Campaigns and Communications Director, Greater Manchester Chamber of Commerce
Hannah Tracey, Head of Creative Digital & Tech at Manchester's Inward Investment Agency (MIDAS) - attending on behalf of board member Tim Newns, Chief Executive, MIDAS
Shaun Hinds, Chief Executive at Manchester Central, sadly couldn't join us this time, but we look forward to catching up with him at our next meeting.
What can #DCF2021 achieve?
Festival Director Martyn Collins kicked off the meeting by outlining ambitions for #DCF2021 to embrace everything the region has to offer digital, while also building a network that thinks globally. "What do you want DCF2021 to achieve on behalf of Greater Manchester?" Martyn asked the taskforce.
Richard Jeffrey spoke first, highlighting his goal to inform people that "Manchester is a global destination" with "the fastest-growing tech industry in Europe." Acknowledging the importance of accessibility, Richard said, "We have to make sure there are pathways into tech for local people."
Councillor Sean Fielding said he believes Greater Manchester "has a great story to tell" and sees the festival as a major opportunity to promote Greater Manchester as "a place digital businesses should come to". Agreeing with Richard's point on the importance of accessibility, Sean noted that "if [digital] is seen as abstract or inaccessible, we can't sell digital to the people who need it."
"We should be showcasing our digital ecosystem and making sure the festival is not just about digital companies but about everything digital provides," said Hannah Tracey. Highlighting what she sees as the vital role #DCF2021 can play, Hannah continued, "this is not just about the geeky tech world, it's about what digital offers our city."
Phil Swan said he sees #DCF2021 as the chance to put on a remarkable event that shows the world "what we are doing differently here". Martyn echoed Phil's thoughts, adding that "achieving a local and global agenda that is accessible" is crucial.
Innovation
Our Digital Innovation Taskforce proceeded to pinpoint Cyber Security, AI, Healthcare and eCommerce as key areas Greater Manchester's digital sector is thriving in. "These are the three key areas where Manchester has a unique story to tell," said Richard.
The board discussed how sharing success stories of local businesses embracing digital possibilities will offer inspiration for how other businesses can do the same. Highlighting the impact the global pandemic has had on the region, Hannah said, "We have to make sure this is not a closed shop. We have to be asking how businesses can get involved." Sean pointed towards other local businesses and their ability to "adapt and accelerate, because they've had to this year".
Thinking globally
The board moved onto the types of content #DCF2021 will be offering this year, by embracing a hybrid event format that offers both in-person and digital events.
The taskforce spoke excitedly of how a properly digital festival offers the opportunity to create high-quality content, filmed in front of a small socially-distanced audience and shared with viewers anywhere across the globe. "We have the opportunity to beam in people working in different tech ecosystems around the world," highlighted Martyn, who said the chance to have places like Pittsburg join our discussion in Manchester will allow #DCF2021 to explore the exciting stories of growth "from industrial to digital cities".
Closing thoughts
Wrapping up another productive discussion, Martyn Collins offered some closing thoughts that captured the ideas on everyone's mind, "Digital City Festival 2021 will celebrate everything our region has to offer digital, realising Greater Manchester's ambition to become a digital thought leader on the global stage."
Next time: Join us later this week when we'll be sharing all of the highlights from our upcoming Tech for Good Taskforce meeting.
Digital City Festival returns 12-23 April as a truly digital experience. Will you be part of it?