18 Feb 2022
Digital City Festival 2022: Everything you need to know about Manchester's leading digital expo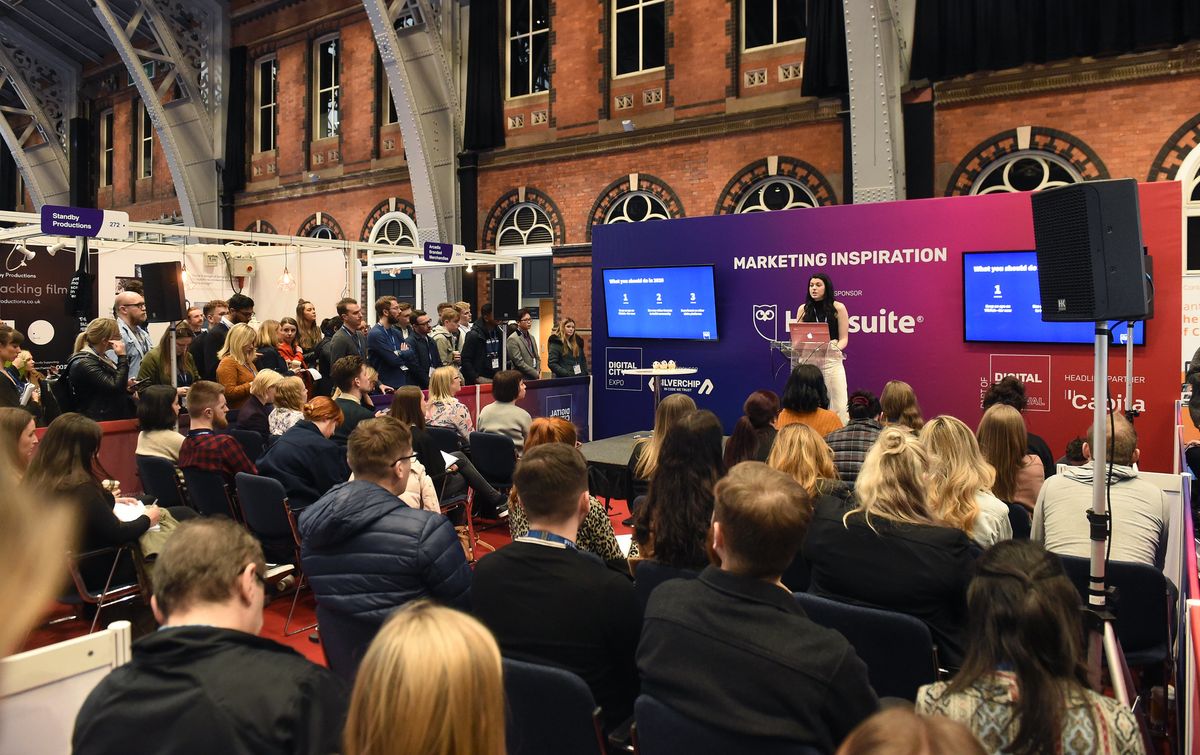 Find out how you can hear from industry giants from the likes of Weetabix, Microsoft and Google at this year's unmissable event.
The one event you don't want to miss this year is returning live in Manchester - where you can hear from the likes of Weetabix, New Look, Microsoft, innovation group UKBlackTech, and Google among many other industry leaders.
The full agenda so far has been revealed for Digital City Expo, the central event taking place during this year's Digital City Festival, where thousands of people from the entire digital sector will unite to celebrate, network and collaborate.
Digital City Expo will be returning from March 9th - 10th at Manchester Central, where you can access inspiring keynotes, have the opportunity to meet and network with industry-leading exhibitors, as well as join masterclasses from industry thought leaders.
From Weetabix delving into what was behind that viral tweet with Heinz, to a dedicated panel on why Greater Manchester is the destination for innovation within cyber - you really won't want to miss out on the Expo this year.
We've broken down some of exciting announcements, key speakers and events that have been revealed so far at Digital City Expo.
More sessions are set to be announced, but take a look below for a flavour of what's planned so far over the two-day showcase, and more importantly, how to be part of it!
Don't forget, it's free to register to attend Digital City Expo which you can do here.
Wednesday 9th March:
Greater Manchester Combined Authority (GMCA) alongside key industry figures will delve into how the Greater Manchester region is the destination for innovation within the cyber security sector at 1pm in the Keynote Theatre.
Bev Craig, the leader of Manchester Council and GMCA Lead of Digital, Education, Skills, Work and Apprenticeships, will be among the speakers on the panel.
The session will explore the steps taken by Greater Manchester to be recognised as an international centre of digital innovation, research and practice in the cyber security world.
A number of industry leaders will be joining Bev Craig at the session including Victoria Knight, Strategic Campaigns Director at BAE systems, alongside Detective Superintendent Neil Jones, Managing Director at North West Cyber Resilience Centre.
Ruby Motabhoy, Innovation Lead at Plexal, and Professor Emma Barrett OBE, Professor of Psychology, Security, and Trust at the University of Manchester and Director at SPRITE+, will join the conversation.
The panel will delve into the threats of cyber-crime and why it is more crucial than ever following the pandemic to focus on innovation in the sector.
Join South London Partnership, Kingston and Sutton, Hitachi Solutions and Microsoft to discover how one of the largest Internet of Things (IoT) pilots in the UK will deliver a multi-purpose platform connecting five London boroughs.
Hear from Tim Kidd, Head of Public Sector at Hitachi; Robin Denton, the Head of Local Government and Housing for Microsoft; David Grasty, Head of Digital Strategy and Portfolio for Kingston and Sutton Councils; and Andrew Parsons, IoT Programme Manager, Digital and IT Service for Kingston and Sutton.
The session will delve into how the pilot will help people live healthier lives, generate economic growth, shape policies and reduce council expenditure.
Chaired by TechBlast UK Executive Editor, Chris Maguire, the Tech Masterclass introduces a variety of Manchester tech businesses with global ambitions.
Hosted in the event's Tech Masterclass Theatre at 12:30pm, speakers include Kevin Jones, the co-founder and CEO of ecommerce tech firm Shopblocks; Jennie Johnson MBE, the co-founder and CEO of edtech app My First Five Years; and Richard Barlow, the founder and CEO of vehicle data start-up wejo.
Dominique Elsey, Marketing Manager at Hootsuite, will share the social platform's trends for the upcoming year in the Keynote Theatre hosted at 3pm.
She said: "I'll be sharing the top Social Media Trends for 2022 from Hootsuite's annual report. It will be your guide to taking all the right risks, defying expectations, outperforming your competitors and making everyone wonder how you did it."
Phil Benson, the co-founder of innovation group UKBlackTech, will be joined by Ralph Varcoe, Chief Growth Officer and Managing Director IoT at Connexin to launch and discuss key findings of the new Smart Cities whitepaper undertaken by UKBlackTech at 3pm.
'Smart Cities: Connected Communities' was created in consultation with stakeholders from tech, government, public sector, academia and at community-level.
The report will delve into the evolution of Smart Cities, which utilise data and technology to run social systems more intelligently, and the possibilities it may offer.
Hosted in the event's Tech Masterclass Theatre from 1:20pm, speakers from Google and digital transformation specialist GFT will cover the latest innovations the companies have unveiled around sustainable technology.
Ian Pattison, the EMEA Head of Sustainability Practice for Google, will be joined by GFT's UK Regional Director Pete Coulter.
There will be a focus on how tech companies can play their own role in reduced energy consumption as well as looking at data centres, green coding and smart application technology.
Thursday 10th March:
At 10am, New Look's Chief Technology Officer Ed Alford with be joined by Catherine Trotter, Senior Director at global consulting firm Slalom to host a Digital Masterclass on bringing that "New Look" feeling to life.
In the Marketing Masterclass Theatre at 10:10am, Klaviyo will be hosting senior figures from rapidly-growing fashion brand The Couture Club, which is based in Manchester.
The Couture Club's Managing Director Scott Shashua and Creative Director Ross Worswick will speak alongside Ben Miller, Senior Director of Customer Success at Klaviyo, on the topic of relationship-building.
Amul Batra, Chief Operating Officer at training provider Northcoders, will lead a Tech Masterclass at 11:40am.
The session will explore the hiring landscape in the technology sector, diving into how tech teams can be scaled strategically, how decision-makers can adapt to the ever-changing hiring landscape, and solutions available for businesses reluctant to hire junior developers.
The Head of Marketing at Weetabix, Gareth Turner, will be speaking in the Marketing Masterclass Theatre at 3:10pm to discuss the "tweet that broke the internet" - the brand's viral moment with Heinz Beanz.
He will share the story behind the Weetabix social post which hit 1.3 billion views last year.
The above speakers and sessions at this year's Digital City Expo is just a flavour of some of the incredible events taking place this year.
To find out more, take a look at the full agenda so far here and don't forget to register for your free place to attend!